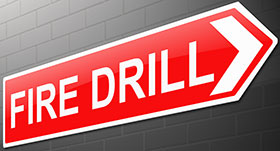 There is a legal requirement for companies to have certified fire marshals and wardens within the workplace and as a result we can offer this online fire marshal training course as it is a mandated programme for many employees, self-employed persons, or safety representatives.
Our online fire marshal and fire warden safety course covers all the required subjects for the workplace for Fire Regulation, Risk Assessment, Prevention, Fire Safety, Evacuation, Alarms and Equipment.
Training is conducted using video based instruction and each fire training video can be paused, or rewound to gain a better understanding of the course content. Our e-learning fire marshal course platform is an ideal solution for dentists, doctors surgeries, hotel receptionists, guest houses, office staff, secretaries, warehouse workers, small shops, or anyone who is required to hold valid and up to date fire warden certification.
This course is RoSPA approved & CPD certified and is designed to meet and comply with the Regulatory Reform (Fire Safety) Order 2005.
Our course covers methods of controlling, evacuating from the building, briefings and also risk assessing and is available with free fire marshal training videos, which can be paused or rewound as you progress through the course so that you can gain a better understanding of the course content and structure.
After you have completed the simple registration process you will be able to start your course at once.
Our fire marshal online training course programme is an ideal training platform for offices, schools, shops, garages, workshops, or anyone who is required to hold workplace fire marshal certification and is to be used along side your existing workplace policies and procedures.
On successful completion of our course you will be able to print your fire training certification.
You can register and start your training now by clicking the "Register Now" button.
Chemistry of Fire
Common Causes
Basic Safety Features in Buildings
Introduction to Fire Extinguishers
What to do in Cases of Fire
Statistics
Current Fire Safety Legislation
Fire Risk Assessment
Fire Preventative Measures
Safety Features within Buildings
Role of the Fire Marshal
Action on Discovery
Fire Drills and Evacuation
Fire Extinguishers
Pre-Engagement Action
Using a Fire Extinguisher
This online fire marshal course is an ideal learning platform for individuals, as well as company bookings. This fire marshal training is suitable for hotel receptionists, doctors & dental surgeries, childminders, office staff, warehouse workers, school teachers and more and is an ideal learning platform to be run along side your existing workplace fire training policies and procedures.
We offer many additional online health and safety training courses that are suitable for the workplace, please select your required training programme by selecting the image below, or click the text to be taken to the course page.
If you would like to contact us regarding our fire warden online training course, or any of the additional health and safety online training programmes that we offer, please contact us through our contact us page.