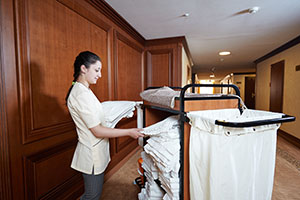 Any employee who works alone during their working day may face many hazards and problems and most people do not have the required training to deal with these hazards that may arise from limited supervision.
It is not against the law to work by yourself, but however the law does require any employer and others to think about and deal with the health and safety risks, or hazards of the work before people should be allowed to work alone.
Our online lone worker training programme is an ideal learning platform for self employed workers, as well as employed persons. Our course is approved by IIRSM (International Institute of Risk & Safety Management) and will help you stay compliant with your lone worker certification.
This course is well suited for office staff, receptionists, domestic cleaners, care staff, including domiciliary carers, door supervisors, security guards and the security sector, healthcare workers, doctors and nurses, taxi drivers, driving instructors, postal workers, or anyone who would like to gain lone worker training certification.
Every employer has a responsibility for the health, safety and the welfare of their employees and lone workers and they are also responsible for the health and safety of those affected by any working activities conducted in public places.
This also includes any self-employed person, or contractor they employ, which also includes any visitor to site.
Our online lone worker course is an ideal training platform for companies and individuals and it is suited to school teacher, nursery workers, nurses, doctors, domestic cleaners, social workers, driving instructors, care home staff and many more persons who are required to hold valid and up to date lone working certification.
This online course for the lone worker is conducted using a video based training system, with instructor led presentations. Registration is simple and once you have completed the simple registration process.
You can register and start your training now by clicking the "Register Now" button.
Lone worker personal safety
The basics
Risk assessment
Assessing the risks
Personal safety solutions
Practical tips to avoid conflict
Reporting incidents
This online lone worker programme is ideal for security guards, door supervisors, hotel receptionists, office staff, domestic cleaners, driving instructors, domiciliary carers, doctors, postmen and women, vehicle recovery personnel, care home staff, or anyone who would like to gain lone worker training certification.
We offer many additional online health and safety training courses that are suitable for the workplace, please select your required training programme by selecting the image below, or click the text to be taken to the course page.
If you would like to contact us regarding our lone worker training course, or any of the additional health and safety e-learning training programmes that we offer, please contact us through our contact us page.